PASSO DEL TONALE MOUNTAIN REFUGES
The giant of the Alps
We are in the heart of the Presena Glacier, a strip of snow and ice surrounded by some of the highest peaks in Trentino: Adamello, Lobbie, Presanella and Pian di Neve.
This is a real paradise for mountain enthusiasts. In winter, a soft layer of snow covers the entire glacier and make it possible for skiers to enjoy the snow until springtime, while in summer the surrounding mountains offer breath-taking scenery that can be reached on foot or with the handy cable car.
LOVINGLY PREPARED FOOD AND GREEN ENERGY
The Passo del Tonale Sustainable Mountain Refuges project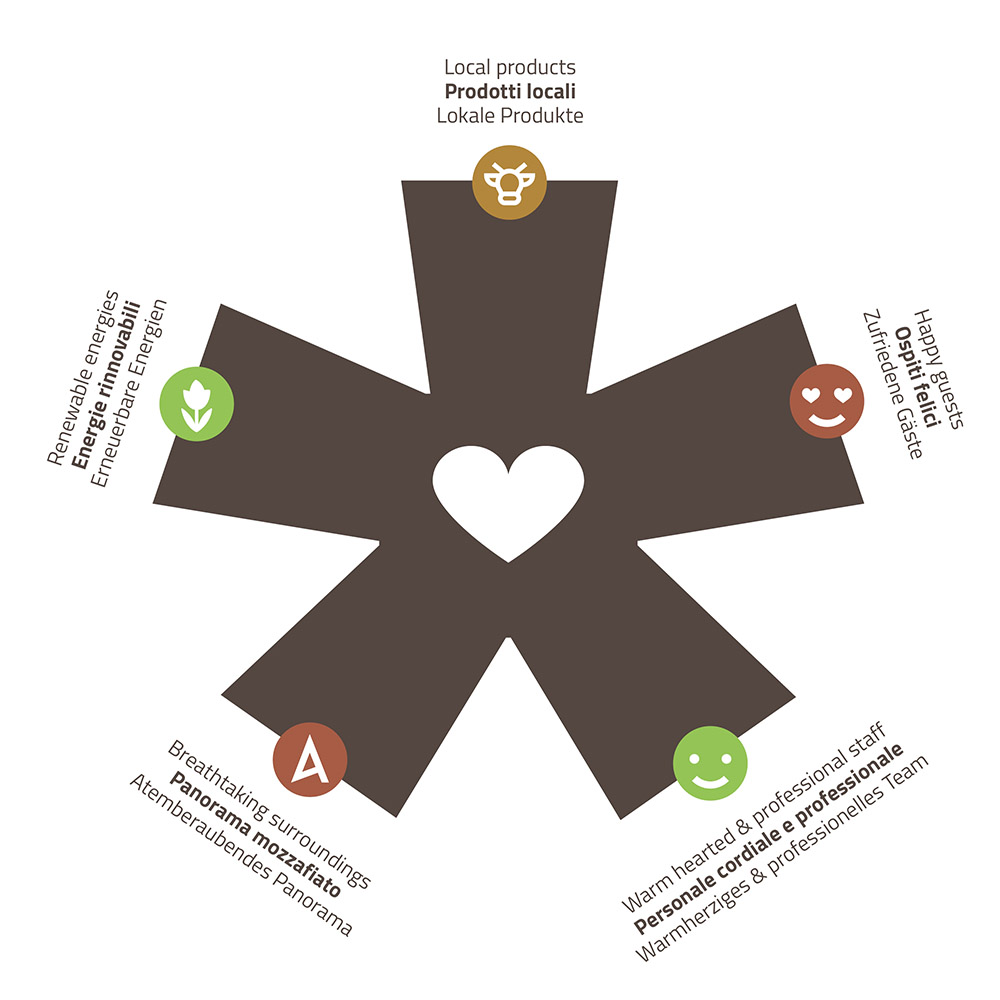 Knowing that they work in a unique and fragile environment, the Tonale Pass Refuges in collaboration with the Val di Sole Tourism Board and the Consorzio PontediLegno-Tonale, set up a project that aims to promote their Alpine location through three macro-initiatives:
Upgrading of the food and wine proposal in order to include quality, certified zero-mile products that add value to typical local cultural elements and the involvement of producers to boost the local economy
Use of renewable energy in the facilities
Enhancement of the human factor, with special focus on inclusive sustainable growth of personnel, plus actions to ensure guests enjoy the best experience possible

One specific example is that the new menus have been planned together with students from the CFP ENAIP ALBERGHIERO DI OSSANA hotel and catering college, who have come up with truly traditional dishes for the Refuges, which will convey the valley's genuine identity.
The facilities have undergone an energy audit to calculate their carbon footprint and agreements have been reached with green energy providers in order to reduce consumption and emissions.
Finally, the project has also involved local producers, who have presented their certified quality products to the Refuges, in this way creating a stronger, more coherent relationship with the local community.
Download the Sustainability Code and find out the actions we have taken to implement the Tonale Sustainable Refuges project
SUSTAINABLE LOCAL MENU
The results
Last July, the Tonale Pass Refuges obtained Certification of compliance with the ISO 17033 ethical claim that declares that their food and wine proposal is sustainable. On their menus you will, in fact, find at least 5 typical and seasonal products strategic for the local area; a minimum of 50% of products with PDO, PGI, organic or Slow Food Presidium markings and at least one option for children, one for vegetarians and one for sportspeople.
Are you curious? Take a look at their menus here!